Julio Cesar Chavez is a legendary Mexican boxer, who held world titles in three weight divisions and is considered one of the best fighters of all time. He fought an impressive 117 times as an amateur, and his professional career saw him compete in a staggering 115 fights, of which he won an astonishing 107. Over his long and illustrious career he has had some truly epic matchups – enough to make any boxing fan swoon with delight. In this article, we take a look at 10 of Julio Cesar Chavez's most memorable fights that put him on the map as the greatest Mexican boxer ever.
Julio Cesar Chavez's name is synonymous with boxing greatness. He is considered one of the best Mexican fighters of all time, if not the best. His remarkable career spanned over three decades, where he won multiple world championships and defended them several times. The boxer's style was unique, and his performances in the ring were breathtaking. Chavez's fights have become part of boxing history and an inspiration for generations to come. In this article, we will look at the top ten most memorable fights in Julio Cesar Chavez's career.
1. Edwin Rosario- Nov 21st, 1987
Chavez fought Rosario for the world championship titles at lightweight on Nov 21st, 1987. This was a defining moment in Chavez's career as it was his first significant step towards becoming a household name in the sport. Despite being knocked down by Rosario early on in the fight, he recovered and ultimately won by TKO in round seven.
2. Meldrick Taylor – March 17th, 1990
This fight had everything – drama, skill, controversy – and became one of boxing's most talked-about moments. Taylor was ahead on points until Chavez caught him with a flurry of punches that had him wobbling before getting knocked down with just two seconds left in the fight. The referee stopped the fight giving Chavez an unforgettable victory.
3.Pernell Whitaker – September 10th,1993
The match against Whitaker took place to unify WBC welterweight titles with IBF World welterweight title; It became a challenging contest for both boxers who gave their all during each round of fighting.The bout ultimately ended up as a draw.
4.Meldrick Taylor II – September 17th,1994.
In this rematch between both fighters,Taylor who seemed to be winning through out lost by unanimous decision .Taylor accused everyone from promoters to judges of corruption leading up to their previous match again.
5. Hector Camacho – Sept 12th,1992
Chavez fought the Puerto Rican fighter in Las Vegas, and it was one of the most-watched fights in boxing history. Chavez knocked down Camacho twice in the 12th round, winning by unanimous decision, proving to be not only quicker but powerful too.
6. Roger Mayweather – July 7th,1985
In just his 37th fight Chavez challenged Mayweather for the WBC super featherweight title and won by TKO in round two. This victory established him internationally as one of the best fighters in his division.
7.Frankie Randall – Jan 29th ,1994
Randall became the first boxer who defeated Chavez after he won on a controversial split decision. Although Chavez went on to win their rematch later that same year by unanimous decision
8.Miguel Angel Gonzales – July 7th,1995
The fight was seen as a difficult one for each fighter.Chavez dropped Gonzalez twice before knocking him out in the fifth round.This victory solidified his place as a boxing legend .
9.Giorgio Camparanaro- Sept13 th ,1986
Chavez won this fight against Italian boxer with ease outclassing his opponent from start to finish .The contest was stopped at end of fifth round with referee ruleing Camparanaro could no longer continue .
10.Tony Lopez- Sept17 th ,1994
This fight was not only memorable but also ended up being Chaves' last successful world championship challenge . He won Lopez with two knockdowns throughout the twelve rounds ultimately winning by unanimous decision
Conclusion:
These ten fights stand out as some of Julio Cesar Chavez's most memorable moments in boxing history. His performances were electrifying, and his victories were hard-fought through determination and skill.He inspired generations of boxers who would come after him and made millions of fans worldwide. Chavez will always be remembered as one of the greatest to ever step into the boxing ring and an icon of Mexican sports.
Julio Cesar Chavez – 89-0 – Greatest Mexican Boxer Ever (Original Documentary)
Julio Cesar Chavez, the greatest champion in Mexican history. Arguably the pound for pound goat. At one point he held a record of 89 wins and 0 losses. With 73 Knockouts. This original documentary examines the entirety of Chavez's career. From his early rise, to his sustained dominance, to his otherworldly skill and determination. Relive all …
Ranking de las peleas más memorables de Julio César Chávez
Las peleas más memorables de Julio César Chávez, en su cumpleaños 58 …
Los Momentos más memorables de Julio César Chávez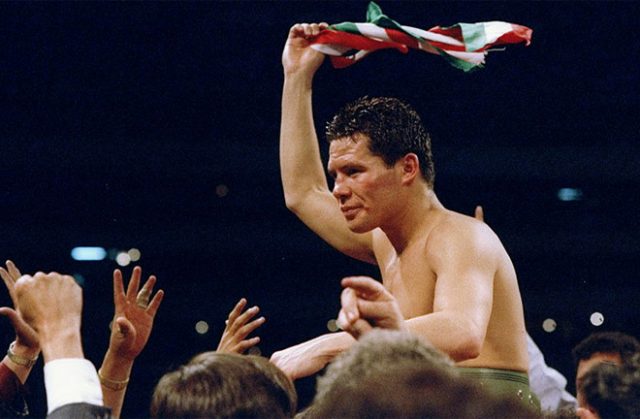 Julio Cesar Chavez: Cinco De Mayo Fights Were So Special
Oscar De La Hoya, Julio Cesar Chavez get flashbacks of their fights …
Julio Cesar Chavez Jr.'s top fights
East vs. West, part 3: Epic 1987 slugfest between lightweight champ …
Pelea De Julio Cesar Chavez / Pdgxy4oswqhw9m : Su primera victoria …
Los Momentos más memorables de Julio César Chávez
It's Been 10 Years Since Julio César Chávez Last Boxed, But His Legacy …